Air Compressors
Discover our range of reliable industrial air compressors with the lowest life cycle cost. Energy-efficient and with a small footprint, our air compressors are suited for any application.
Where are air compressors used?
Amounting to as much as 12% of all industrial electricity usage, air compressors are a silent partner to every industry imaginable. Compressors are used by your dentist. They are used by your favourite beer-maker. There is an air compressor in every cement plant, in every wastewater treatment facility, in every power power plant. From powering pneumatics in production lines, to spraying paint, to blowing glass and thermoformed plastics, to aerating the water supplied to our taps, there is a compressor somewhere that is supplying the compressed air needed to make almost everything we touch.
What is the best air compressor in 2018?
An air compressor is a large upfront investment in any company, though rarely the focus of attention among a factory's complexities. Reliability has been, historically, the main deciding factor in the purchase of a compressor. But as times have shifted towards a more energy conscious approach, energy saving features have become more important. Considering anywhere between 10% and 30% of the average factory's energy bill can be attributed to the production of compressed air, the focus on energy efficiency and the lowest total cost of ownership is understandable.
For auto-body repair, garages, workshops and businesses just getting started our most popular seller is the GX and G oil-lubricated screw compressor range for its reliable technology delivered in a compact package that will fit in any business.
Among larger industrial users such as manufacturing applications, automotive industry or power generation, where energy efficiency is a large driving factor, the GA VSD+ range of rotary screw compressors are the well-established preference, combining proven rotary screw technology with inverter-driven variable speed drive motors in a footprint smaller than any of its competitors.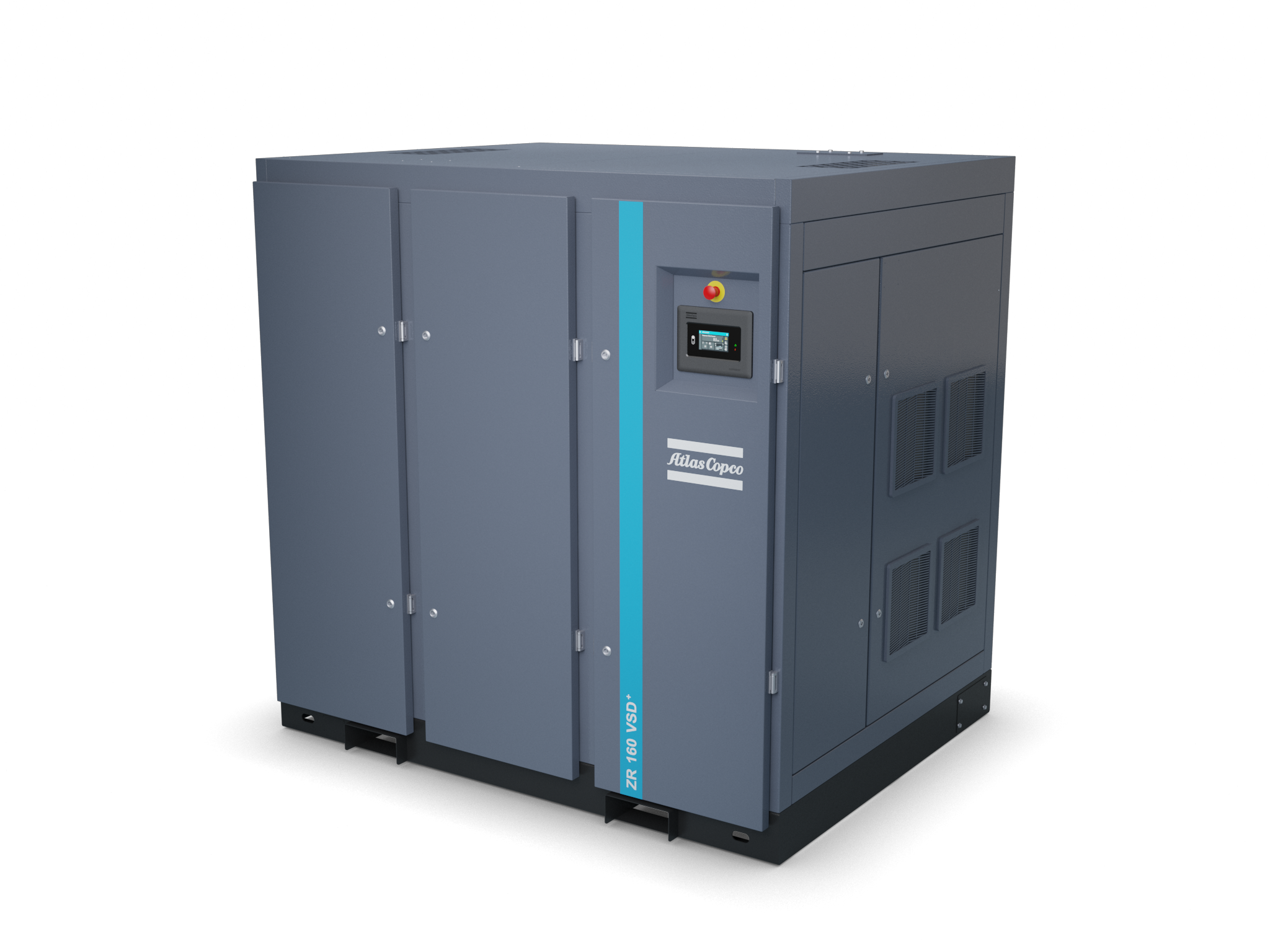 The sensitive application industries such as oil and gas, food and beverage, pharmaceutical, electronics or textile normally aim for the ZR VSD+ range for the reassurance of a Class 0, TÜV SÜD certified compressor, made in accordance with ISO 22000, which guarantees clean compressed air at the compressor outlet.
But there is no hard and fast rule. The best air compressor will always be part of a compressor installation that is selected after a data-logging exercise, bearing in mind your application, the location of the equipment, running hours, and whether it's process-critical, to name but a few factors. Why go to that much trouble for selecting a compressor? How much does a compressor breakdown cost your production? Is it really worth having just any compressor?
Atlas Copco's commitment to providing the optimal solution saved us not only in capital and service costs by identifying the correct size of compressor, but also massive energy savings against our old fixed speed compressor. The installed compressor is exceeding all of our expectations. I would have no hesitation in recommending Atlas Copco as a compressed air partner.


Did you know the kW power rating of a compressor's motor does not provide enough information to specify a new compressor?
There could be a number of pressure/flow variants within each air compressor kW category. E.g. Atlas Copco has four models in the 11 kW range that represent a 30% differential in flow rate (from 28.7 l/s to 35.8 l/s at 7 bar.g) and over 32% difference in the unit's purchase price! So the question becomes how do you choose or size a compressor? Which air compressor is right for your business? Which air compressor supplier should I choose? Modern compressed air equipment, when correctly matched in terms of compressor pressure and flow to process demands, can offer reduced specific energy requirements, improved productivity, and lower lifecycle costs. Their enhanced performance may allow a lower kW rated machine to be specified at a correspondingly smaller purchase price and reduced running costs in comparison to higher rated equipment. It pays to apply a few essential rules when choosing a new compressor:
Conduct an air audit
Assess present and future needs by first checking out the existing compressed air systems from air output to point of use, with a thorough air audit.
Match the air demand
Do not rely solely on the stated motor power rating to match the air compressor performance to the process air demand.
Pressure + flow = energy = cost
Start with the air pressure and flow requirement and then find the best fit in terms of drive motor power. Always keep in mind: pressure + flow = energy = cost.
Air quality
What type of air quality do you need? Is an oil-injected compressor plus filtration sufficient for your application or do you need a genuine oil-free compressor?
Always prioritise the flow and pressure
when you are choosing an air compressor!
Why choose an Atlas Copco compressor?
The Atlas Copco led project was carried out with professionalism, full flexibility and a high level of technical skill. Their team worked around our tight production schedules without a single interruption to our delivery programmes. The whole installation was designed to give us a reliable and efficient air supply system, both for our present needs and to provide additional compressed air capacity to fully cater for our forward growth plans. Following project completion, system performance tests confirmed Atlas Copco's predicted performance figures were fully met in every instance.
Reliable air compressors
The continuity of your production matters to us as much as it matters to you. That is why Atlas Copco compressors are some of the most reliable machines you can get. Choosing an Atlas Copco compressor means choosing technology from a manufacturer that has been at the forefront of development in compressed air for more than 100 years.
Compressors with lowest total cost of ownership
Air compressors are long term investments that will play a significant part of your business for years to come. The average factory changes air compressors every 7-10 years, meaning that the initial capital expenditure is only a fraction of how much your compressor will cost you in total. It may surprise you to find out that 70% or more of your air compressor's lifecycle cost will come down to its energy usage. Atlas Copco compressors have the lowest total cost of ownership, owing to ever-improving design and unmatched, energy efficient variable speed drive motors. That all adds up to a significantly reduced bottom line for you and your factory.
Our compressor installations are tailored for you
What is your greatest concern? Factory footprint? Having a quiet compressor? Good finance options for your equipment? Turnkey installation? Whatever is on your mind, you can be assured that our sales team will have it as a top priority in suggesting the right piece of equipment or installation for you. Be it that you need the lowest cost of investment because you are just starting out, or you need a foolproof compressed air installation with guaranteed uptime, your air compressor quote will meet your factory's needs.
As cost efficiency is always at the forefront of our decision making, we felt the investment in this system produced the right solution. The brand has a reputation for quality and reliability and that was important to our long term plan.
Standard, customised and engineered solutions
We have a complete range of oil-lubricated and oil-free air industrial compressors suitable for any industry and application. For the marine, railway and medical industries, we offer dedicated designs. All standard packages are available for customisation to suit your needs.
Certified quality
All our compressors are OHSAS 18001, ISO 9001, ISO14001 certified. The oil-free air compressor range is also endorsed by ISO 8573-1 CLASS 0 standards and the production line is ISO22000 accredited.
Comprehensive aftermarket service
Our extensive aftermarket product portfolio is tailored to offer the highest availability and reliability of your compressed air equipment. Our service technicians are local to you and will always offer the best advice for ensuring your system's uptime.