We wish you and your family are safe and doing fine in these tough times. Due to lockdown and other measures taken in the fight against COVID-19 virus are restricting us as a society and have also led to plant shutdowns as well as disruptions in production. Following the pandemic, restarting the plants in a controlled manner will be necessary. Atlas Copco equipment is essential in many manufacturing applications, and we will contribute to safeguarding your production process.
A long shutdown period can cause some unexpected event during the restart. Here are some recommendations to reduce unforeseen effects:
Flush the pump and change the oil: contamination present in the oil can leave deposits and block lubricating parts affecting pump performance and lifetime.
Replace shaft seals: shutdown may have caused some internal parts to deform, leading to internal leaks.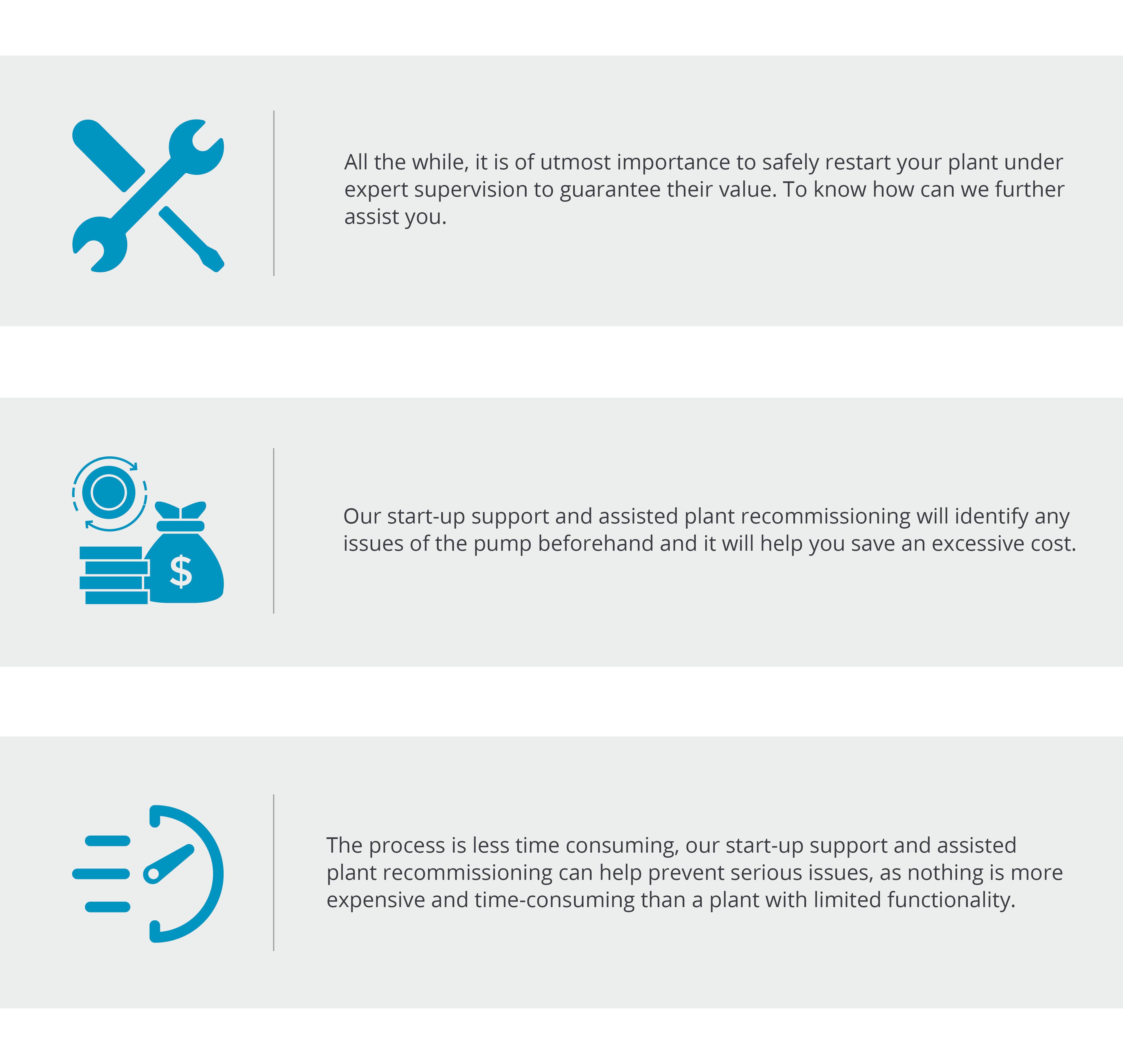 To ensure proper and safe restarting we recommend that our customer service team accompany you. Our start-up support and assisted plant recommissioning can help prevent serious issues, as nothing is more expensive and time-consuming than a plant with limited functionality.
To know more contact us on
Brazil
Czech Republic
Germany
India
Italy
Russia
Spain
Sweden
Turkey
United Kingdom
United States

+55-11-3952-5018
+44-293-603-373
+49-8999-1918-16
+91-7709175050
+39-0248-4471
+8-800-775-8099
+39-0248-44-71
+44-293-603-373
+44-293-603-373
+44-293-603-373
+1-800-848-4511

divisao.vacuo@br.atlascopco.com
sales.emea@vt.atlascopco.com
technischersupport-vts@vt.atlascopco.com
swapnali.shinde@atlascopco.com
italy@vt.atlascopco.com
servicevacuum_russia@vt.atlascopco.com
spain@vt.atlascopco.com
sales.emea@vt.atlascopco.com
sales.emea@vt.atlascopco.com
sales.emea@vt.atlascopco.com
nacustomercare@vt.atlascopco.com