Collect data in real time and get automatic analysis with ToolsNet 8!
Collect, analyse and optimise. With ToolsNet8 from Atlas Copco, you have:
Customizable dashboards
Advanced graph analysis
Tools overview
Instant notifications
Accessibility from any device (web-based application)
Trend analysis (SPC)
Get personalised views. Designed for your specific needs:
Top NOK applications
Shows the applications with the highest failure rate for a configured part of the tool structure.
Running SPC
Shows the real-time X-bar and range charts for a configured application.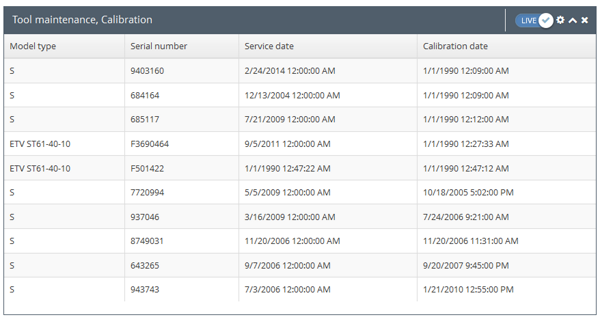 Tools maintenance
Shows all the Power Focus tools in production that need service or calibration.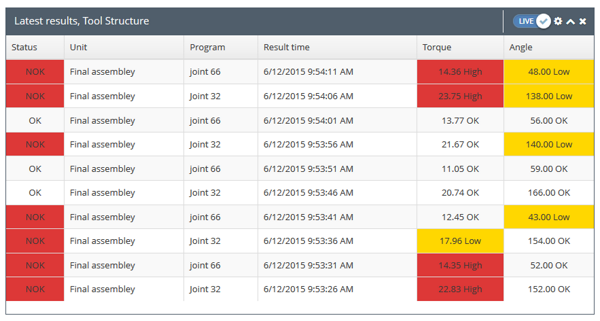 Latest results
Shows an overview of the latest results from the chosen part of the tool structure.
With the ToolsNet 8 modular dashboard you get more!
You get a direct overview of the production in the plant. 
You extract and visualize the information you find most interesting and important to monitor – any time. 
Every user can configure the dashboard in a way that best suits their needs. 
Maybe you want a complete overview of the assembly line to analyze productivity.Or you need to monitor a certain station to improve on quality.
With ToolsNet 8 you go further!
Boost your productivity with reduced rework and less bottlenecks. 
Improve your quality by avoiding recalls tracking changes an finding the problems before they occur. 
Reduce service costs with preventive maintenance for your tools, reduced down time and faster reaction time with alert notices.
Do you need a new license or upgrade an existing one? If you currently are working with ToolsNet 4000 you can install an upgrade to ToolsNet 8. Users of previous versions and first time users need to do a full installation of ToolsNet 8.